The Haunted Lantern 1997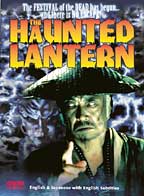 Strange events plague Shin and his new fiancee during the Festival of the Dead. He has nightmares of a woman disappearing in a supernatural spray of blood, and gruesome visions of monsters.
Then an old priest claims that Shin is truly dead. It is the time of ghosts, and sinister spirits roam the Earth. A ghostly beauty haunts Shin, thirsting for vengeance and an otherworldly kiss!.
To Bookmark
To Share This Movie With a FriendCLICK HERE
To Make Movie FULL-SCREEN Click the + symbol on the Bottom Right of the Player